I tell this to my kids all the time...
If you are going to do something, ALWAYS and ONLY give it your BEST effort.
Actually I tell my Volleyball players the same thing. If you are going to show up, you better show up and give me 100%.
I'm a Coach, so it is not in me to say I don't mind losing. Because I absolutely hate it! But if it's one thing I hate more than losing, is losing because we didn't give our best effort. I believe that if my players play to the best of their abilities and then some, and still lose, then we lost to the better team. No shame in that at all.
Every time the Olympics come around I am reminded why I love sports. Not so much by the big Goliath champion gold medal winners, but by the little unknown countries who SHOW UP and give it their best for their countries.
Like Maureen Tuimalealiifano of Team Samoa. She competed in the individual Women's Archery event in London. After the preliminary ranking round Maureen was ranked #63 out of 64. Which meant that her first opponent would be in the higher ranking countries. And who does she get? The archer from South Korea who is ranked #2. But #1 ranking was also from South Korea. The same South Korean team of archers that won the Gold medal just a couple of days before. (And every year before that since the event was introduced into the summer Olympics)
Even though she was defeated I respect her so much for just showing up and giving an olympic effort for our little island nation. I am also immensely proud of how she carried herself and how she just always looked so happy and honored to be at the Games.
Check her out channeling her inner Katniss Everdeen. ;)
And what about Eric Moussambani dubbed "Eric the Eel" of the 2000 Sydney Olympics. Representing Equitorial Guinea in a swimming heat of only 3 swimmers. The other two swimmers were disqualified due to false starts, so Eric is left to complete the heat alone. Just him. Eight lanes and he was the only swimmer in the pool. He struggled to finish since he had never before seen an Olympic sized pool before that day, and he had just learned some techniques from the American swim team just two days before. But he showed up and he finished. In the record books he is listed as the winner of his first and only Olympic swim race.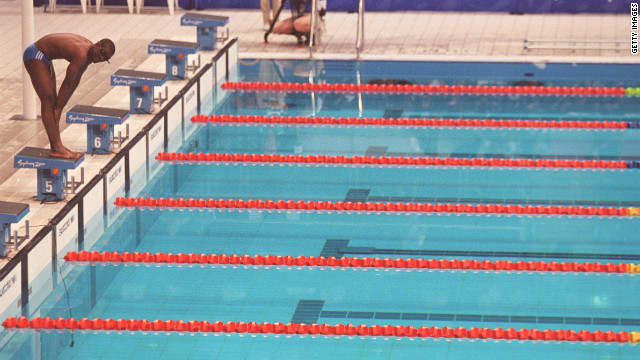 In 1992, while watching the Barcelona Olympic track races,
I distinctly remember bawling my eyes out when I was watching this race live on television. Derek Redmond of Great Britain tore his hamstring before he could finish his 400 meter race. I can't imagine the feelings he was going through, but he got up and started hopping his way towards the finish line. And then his father comes from the stands and helps his son in his emotional finish of the race that had already ended. This moment in the Olympics was used by the Olympic Committee and Visa as an example of the Olympic spirit, and for Nike in their series of Courage ads.
My sister asked me who won the gold in the last Olympics for Women's Volleyball. I couldn't even tell her. In the end I remember the little people and their stories. I remember the losers and their Olympic spirit. Hopefully my kids understand what I mean one day. "Oh that's why Mom always told us to always do our best." Because nothing of quality ever comes from giving a half ass effort.